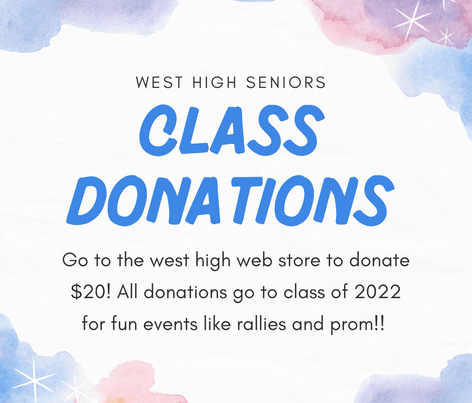 Class Council Member: Jayden Blair
Class Council Member: Cathy Lam
Class Council Member: Aryial Oneal
Class Council Member: Cameron Uszler
RISE AND SHINE SENIORS!!!
Senior Class President: Paige Hamilton
Senior Vice President: Kainani Kia'aina
Senior Historian: Saki Matsumoto
Welcome Class of 2022! Stay informed about upcoming class events and fundraisers!
Follow our class instagram @whsclassof_2022 and join remind by texting @2022west to 81010
WEST HIGH SENIORS!!
Make a Class Donation on the West High Webstore! All donations go to the Class of 2022 for fun events like rallies and PROM!